de en it
SQM.guide détails techniques
Have a look at the online instrument: SQM.guide online. In the Help pages there you will find detailed explanations concerning the single pages and functions.
La structure modulaire de SQM.guide
La structure de SQM.guide est construite autour de la structure hiérarchique du programme de financement. Le modules fonctionnels forment le "moteur" de SQM.guide. Les bibliothèques standard constituent une première couche de "contenu" qui est la même pour toutes les implémentations. L'implémentation du programme est le contenu qui dépend du programme de financement spécifique qui a été mis en place avec une licence. La mise en place doit être faite par un consultant spécialsé (voir dessous). Les données des utilisateurs, enfin, sont les données que les différents utilisateurs provenants du public ont enregistré sur le système pour leurs propres besoins.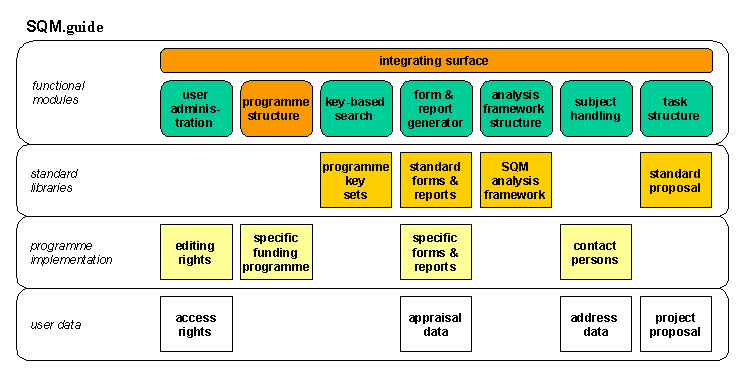 The functional modules
The user administration
Implementing a specific funding programme
The establishment of a guide for a specific funding programme based on SQM.guide requires qualified consultancy. The following tasks have to be carried out:
analysis of the funding program
implementation of the program on the SQM.guide server
attribution of key attributes
attribution of editing and updating rights
definition of the evaluation questionnaires for each program element
validation by the client and online publication
hosting and support for several years